DROP A HINT
The Lori Dress - San Gallo
$350
EMAIL OUR PERSONAL SHOPPER
SHARE WITH SOMEONE ELSE
COPY LINK
DROP A HINT
The Lori Dress - San Gallo
$350
EMAIL OUR PERSONAL SHOPPER
SHARE WITH SOMEONE ELSE
COPY LINK
The Lori Dress - San Gallo
Made to Order items delivery 10-15 business days; Ready to Ship items delivery 2-3 business days


---
Designer's Note
Romantic, fun and as summer as it can get: The Lori dress is your go-to for easy packing travel dresses. Featuring a boxy cut the fit and a dropped waist, the dress is very comfortable. Made with premium 100%  San Gallo cotton, the Lori dress is very romantic. Other significant details include a beautiful korean collar, fabric covered buttons and the option to shorten and button up the sleeve.
Shipping & Return Policy
Duty Fees: For European, US & Canada orders there will be no custom duty charges applied to the order. Orders shipped to UK, Switzerland, South America, Australia and Asia, customs duty fees will be billed to recipient. 
Returns: At this time, returns are accepted for European and US orders,  we offer an exchange or full refund within 7 days of receiving your package. Shipping fee is non-refundable and we can send a pre-paid label then will deduct the shipping rate from the refund amount (we have a flat rate of $20/18Euro).
The Lori Dress - San Gallo
MADE-ON-DEMAND
After ordering, we'll carefully construct your garment from scratch. 
Pick a silhouette. Select a color. And we'll get sewing. 
Our direct-to-consumer model keeps the price low & the quality high. 
You'll know just who created your new wardrobe essential.
HANDCRAFTED IN ITALY
All Marta Scarampi pieces are made by hand and by order at the atelier in Torino, Italy. Your order will arrive within approximately 7-10 days from purchase.
Learn More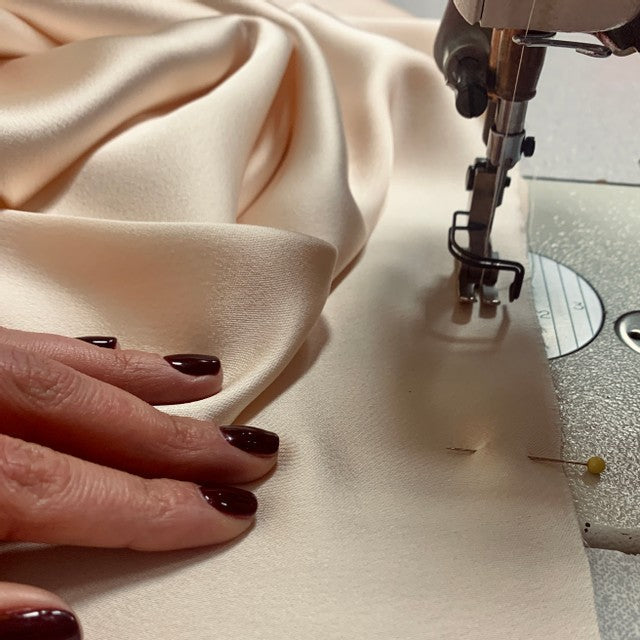 You Might Have Seen Us
"Made on demand, setting a new standard in fashion."
"Not surprising that the fashion industry has decided to make something you wear beautiful—it is what fashion does."
"A flattering design, ideal for the fashionable traveler"
"If you have to fly, you'll want to fly in this"